Year 7 student, Charlotte Bolton, is the proud recipient of a Trinity College Bronze arts award having worked to achieve this outside of her school lessons.
The prestigious arts award, run by Trinity College London and the Arts Council England, was established in 2005 to help under-26s realise their creative potential through five levels of recognised qualifications – Discover, Explore, Bronze, Silver and Gold.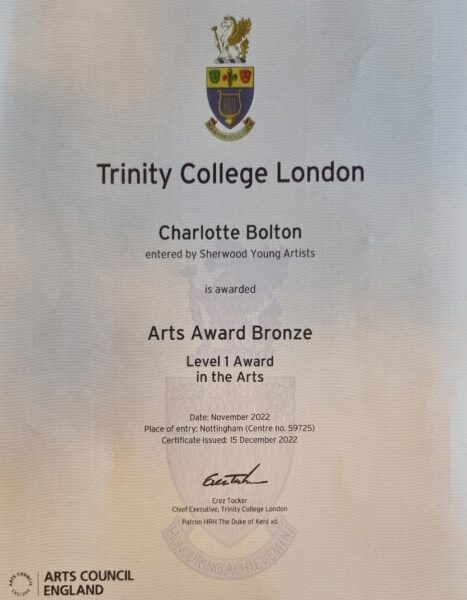 Arts Award takes children and young people on a creative journey, exploring the arts world, discovering their potential as artists and developing leadership skills. The awards are open to anyone aged 25 or under. Not only do they support young people to develop as creative professionals, this unique set of arts qualifications also builds skills essential for success in the 21st century: creativity and communication, along with problem-solving, reflective-thinking, leadership and confidence.
After attending the Sherwood Young Artists programme on Saturdays since she was seven years old, Charlotte achieved the Bronze arts award – a Level 1 qualification on the Regulated Qualifications Framework (RQF). This qualification develops art form knowledge and creativity alongside reflective practice, problem-solving skills and confidence. Young people complete a portfolio as their arts award journey progresses, explaining what they've seen, done and learned along the way.
Charlotte can start progressing on her silver award when she is 13 years old.
Some of her work and journey with Sherwood Young Artists can be seen on Instagram @cjboltonart