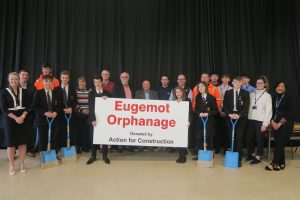 A number of East Midlands construction companies have been digging deep to support a secondary school project to complete the build of an orphanage and a new kindergarten facility in Ghana.
The companies have donated both funds and essential equipment which will be taken to Ghana by students from East Leake Academy to complete works on the Eugemot Orphanage in the Upper Volta region of the country.
In total, 44 students from East Leake Academy will travel to Ghana on 1st April for 10 days as part of a Venture Force expedition to build the walls of the new kindergarten.  This will be the third trip to the country by East Leake Academy students to support the build of a sustainable orphanage complex. In order to take part in the visit, students have to fundraise themselves to pay for the costs of their travel and accommodation.
Thanks to the kind donations of local construction companies, they will no longer be travelling empty handed and will transport a range of tools for the new build including hawks, shovels, trowels, paint and paint brushes, and even a new orphanage sign.
Howard Platts, Group Training Officer for Action for Construction, said: "The support for the project from our member companies has been overwhelming. It is such a fantastic and worthwhile venture that lots of companies were happy to get involved.  We can't wait to see the finished build and it will be great to see the children settled into their new kindergarten."
Principal of East Leake Academy, Mrs Kathy Hardy, said: "We are extremely grateful for the donations from local businesses – this will make a real difference to our students as they lay the foundation walls for the new kindergarten.  It has been fantastic to work together with local companies on this project and, as we aim to produce responsible citizens of the future, support like this sets a great example for our students."
The items donated by local construction businesses are as follows:
12 hawks and trowels – Swallow Hill Homes
12 hawks and trowels – Telling (Finishings) Ltd (hand hawks) and Protrade (plastering trowels)
12 shovels – Drury Joinery and Jewson
8 packs of paint brushes (1inch, 2inch, 3inch) – Art Decorators
£1000 donation to the Venture Force Foundation charity– CR Civil Engineering
Orphanage sign – Action for Construction
50 litres of paint – DKN Decorators