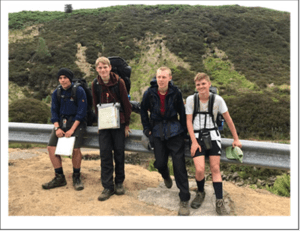 We are delighted that our students who took part in the Duke of Edinburgh's Awards scheme for Bronze, Silver and Gold have all successfully completed the programme for each award.
They will now be presented with their 'Aims' expedition certifications.
Sixth formers Charlie, Stuart, Jacob and Finn (pictured here) reached the highest level Gold award so huge congratulations to them.
Well done to our students on an amazing achievement and thanks for the support of parents and staff who volunteered their time on the training, practice and final expeditions.
We look forward to the next academic cohort.