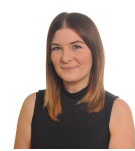 A very warm welcome to everyone in Harrier House! Just like the Harrier Bird of Prey, and the Harrier Jump Jet aircraft of course, I believe that Harrier House is the perfect vehicle for vertical take-off!! I hope that over the coming years both myself and your child's tutor can build further upon the successful working relationship between our wonderful school and the families and young people within Harrier House.
"The difference between the impossible and the possible lies in a person's determination."
Tommy Lasorda
If you need to discuss anything concerning your child's needs please contact the relevant member of my outstanding team of Harrier tutors who will be only too happy to help. Harrier house expects the very highest standards including a tenacious hard working attitude. I hope that we will see all of our students serving and contributing to their house, always with the highest integrity and pride, by getting involved in the many House competitions available, to help us towards our goal of winning the House Competitions Cup. Harrier House expects – integrity, tenacity, service and achievement for all!
Contact Clare Baxter, Head of Harrier House: cbaxter@eastleake-ac.org.uk
Staff list